The unyielding human love for s'mores is astonishing, to the point we have developed so many derivative recipes from s'mores dips to s'mores ice cream. But what about those classic S'mores Recipes?
We've chosen 5 of the all-time best recipes to sweeten up your next camping trip, from the classic s'mores to some of the newer innovative flavors. Are you ready to be the superstar of your next glamping trip?
Image Credit: GudGear
The Best Classic S'mores
Ingredients:
Milk chocolate bar

Graham crackers

Large

marshmallows
Split your chocolate bar in halves and put one on each of the graham crackers. Roast the marshmallow till golden brown on the surface.
There have been different opinions as far as how cooked your marshmallows need to be. If you ask us - roast them to your heart's content. If you want them slightly burnt, go for it!
Photo credit: OARS
Forget about the chocolate. Let's go with delicious huckleberry jams instead! The toasty marshmallows will also create a thin layer of caramel upon contact, bringing additional flavor to this recipe.
You can use any premade jam for other variations, or make your own from freshly picked huckleberries! If you're using your own jams on the spot, make sure to add a splash of lemon juice in for a more balanced flavor.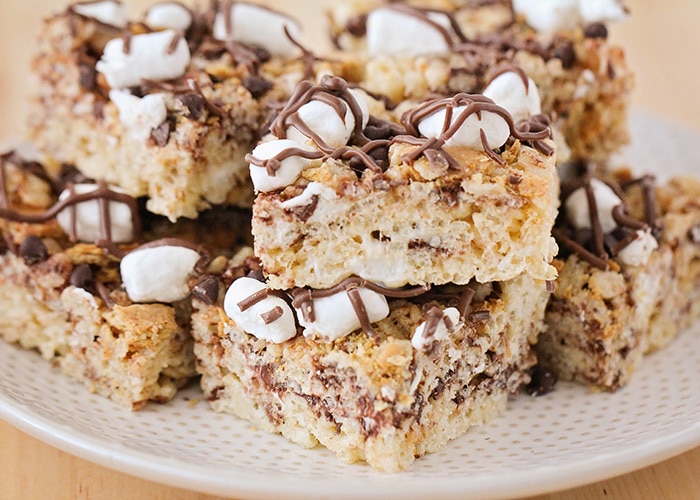 Photo Credit: Somewhat Simple
This s'more is more of a S'mores bar with all the ingredients mixed together, compared to your traditional campfire S'mores.
You'll mix chocolate, Rice Krispies, and graham cracker crust in one bowl, and the butter and marshmallow in another. Heat the marshmallow and butter up until melt, then mix everything together.
Finally, press the mixture into a large tray, and sprinkle the remaining chocolate and crackers on top. Not eating all of it? Put the tray into the fridge once cooled, and you'll have snacks for the remaining week!
Who said you could only use Graham crackers for s'mores? Swap for fudge stripe cookies to make fudge stripe s'mores! You might also want to switch to medium-sized marshmallows since these cookies are a bit smaller.
This is also a recipe you can batch-make at home using your oven. If you think the fudge stripes are too sweet for you, only add half the chocolate bar, or switch for a different type of cookie!
Photo Credit: Spoon University
Reese's S'mores
Instead of using two pieces of milk chocolate bars, swap for one (or even two!) Reese's peanut butter cup. We recommend you smash Reese's cup beforehand so the marshmallow could properly melt the entire piece.
You can also lay the ingredients in the order of cracker (bottom), peanut butter, and chocolate bars (top) to make a similar peanut butter s'more by the campfire.
You may have noticed: all these recipes require a set of foundational ingredients, such as graham crackers and chocolate bars.
Meanwhile, having the right marshmallow roasting tool is also a good idea. Sure, you can use tree branches. But some days we're just not in the mood of finding sticks, right?
You can build your own kit, or buy a premade kit online. The choice is all yours. Remember, there is no shame in using a kit!