Campsite cooking is one of the best things when it comes to camping! Here, we handpicked 10 cast iron recipes for your next getaway. These meals are easy to prep, quick to cook, and most importantly, full of flavors.
Image credit: All Recipes
Campfire Breakfast Skillet
Ingredients: potatoes, eggs, shredded bacon, shredded cheese
This is the most basic cast iron skillet breakfast recipe. Cook the bacon first then move them to the side. Cook the potatoes in the bacon fat until soft and stir in the eggs. Add cheese, then sprinkle the bacon back on top once the cheese melts. Voila! You've got breakfast.
Pro Tips: Add onion, ham, and any spices you like for additional flavors.
Image credit: All Recipes
Cast Iron Breakfast Hash
Ingredients: butter, shredded potatoes, shredded onions, ham, or sausage. 
Breakfast hash is another one of our morning favorites. Simply cook everything in heated butter until done, and add in salt & pepper.
Yup. It's that quick and easy.
Pro Tips: Use packaged hash browns to make it even easier!
Image credit: Colorado Sundays
Campfire Fajitas
Ingredients: chicken, bell pepper, onion, taco spice, or fajita sauce
Some of our best camping memories involve campfire fajitas. For starters, we recommend chicken over steak because there is no worrying about overcooking.
Pro Tips: Marinade the onion and meat together in sandwich bags beforehand for a much more savory flavor!
Image Credit: Fresh Off the Grid
Campfire Pizza
Ingredients: Dough, anything you want on the pizza, lots of cheese
The key to a good campfire pizza is to cook the dough first, flip it, then add your sauces, toppings, and cheese. Be careful not to overfill the dough with pizza, and try to use a classic or thicker dough instead of thin-crust doughs.
Pro Tip: Use two separate cast irons to save time, one for the dough and the other for the toppings.
Image Credit: Fresh Off the Grid
Cast Iron Frittata
Ingredients: Eggs, milk, spinach, onion, heirloom tomatoes, cheese
Prepare the egg mix with milk, cheese, and seasoning. Heat your cast iron, and saute the onion slices until they soften. Add everything else, put a lid on, and wait for about 15 minutes.
Pro Tip: Consider investing in a camping stove. It will allow you to control the heat much better than over the raw fire.
Image Credit: Lodge Cast Iron
Ingredients: Marshmallows, chocolate, graham crackers.
Instead of the traditional s'mores, let's go with a family-size s'mores dip this time! It's really easy to make. Break up the chocolate and spread them into a thin layer, then add marshmallows on top.
Cover the cast iron pan with foil and cook for 7-10 minutes depending on how hot your fire is.
Pro Tips: Use the large marshmallows.
Image Credit: SimpleRecipes.com
Cast Iron Skillet Cornbread
Ingredients: Cornmeal, sugar, flour, egg, buttermilk, butter, creamed corn
Start by mixing all the dry and wet ingredients separately, then mix both together to make the batter. Meanwhile, heat your pan with shortening.
Pour the batter into the pan and carefully spread it evenly. Seal the pan (with a lid or foil). Cook for about 15 minutes, then remove it from the heat and let sit for 5 minutes.
Pro Tips: You need the mid-low portion of your fire for this recipe!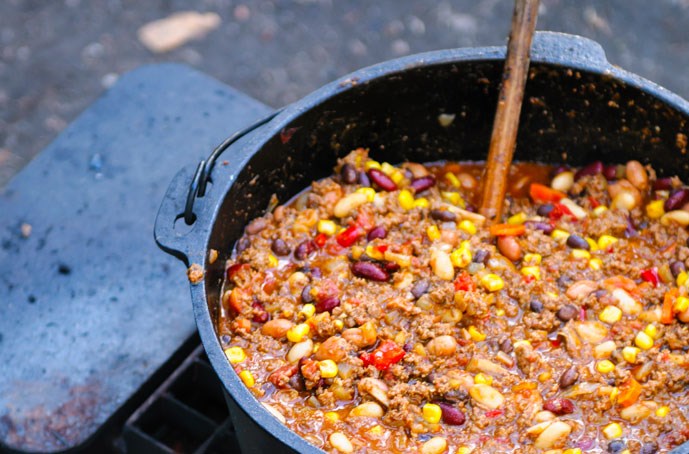 Image Credit: KOA.com
Campfire Chilli (to Go With the Cornbread!)
Ingredients: Onion, pepper, chili powder, garlic, ground beef, diced tomatoes, tomato paste, additional spices
It's basically the same as cooking chili at home. The only tricky part is you need a dutch oven set up for this recipe. Start at 18-briquette, and once the chili is ready to simmer, maintain 10-12 briquettes. Cover and simmer for 45 minutes, remove the lid and let it simmer for another hour or so.
And, we've got chili!
Pro Tips: If the conditions allow, pre-cook most of the ingredients at home and freeze them. This will save you a ton of time.
Featured Image Credit: Food Network Canada