Getting ready for 2022? Make sure your little ones are covered too. Check out the best beach chairs for kids according to real customer reviews from the past year!
If you're interested in buying beach chairs from us, we recommend you to get on our mailing list as we're slowly restocking our chairs, and these products sell out almost immediately after we restock!
Looking for something safe and comfy for your toddlers? Check out Regalo My Cot Portable Toddler Bed. This is for sure one of the best beach chairs for little kids. The chair/bed weighs a portable 6.25lb, and holds up to 75lbs.
You can use this as a seat for two toddlers, or for one kid to sleep on. The lightweight steel frame is sturdy and safe. And the design sits steadily in soft sand.
This portable chair is great for kids from 6 months up to 4 years old. The chair can be folded into a tiny carrier bag (included with purchase) and only weighs 4.5lbs. However, keep in mind the chair only holds up to 35lbs. You can also use this chair at restaurants and other family events.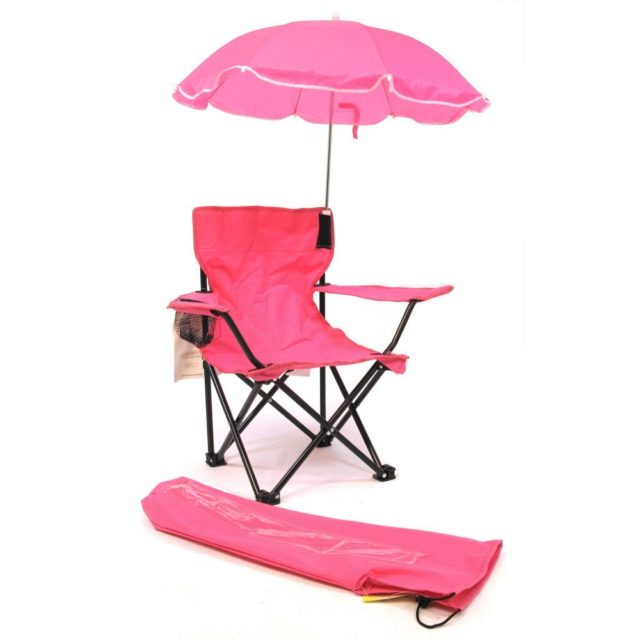 Looking for the first real camping chair for your kiddo? Redmon's got you covered! We're 100% in love with the various color choices. Let your little girl and little boy pick their own!
The compatible design lets you fold both the chair and the umbrella into the carrier bag that comes with the product. Made with 100% polyester, you never need to worry about sand sticking to the chair.
If you want something more artistic, and fits better with your glamping aesthetics, check out Bridget 94 Rainbow Child Sling Chair. Available only on Society 6, this sling chair makes the perfect backyard or beach companion.
The polyester hammock-style seat ensures a sand-free experience, and the back reclines in multiple positions. The solid wood frame is collapsible and durable, and all materials are splash and spill resistant.
Enjoy all-day tanning with the 5 Position reclining beach chair with lay-flat option. Recline without the worries of pinching fingers or hands with the patented SAFE-ADJUST technology built into the wooden armrests. Includes built-in towel bar.
This chair holds up to 250lbs and can be easily carried around with the padded adjustable straps. Therefore, it's perfect for your older child or the young adult at home!
As one of the leading players in the beach chair market, Coleman's brand stands for quality and comfort. Their Quad Chair has always been one of the best beach chairs for kids, especially when you realize it comes with cool glow-in-the-dark designs!
The chair's steel frame has a locking function for increased stability and security. It supports up to 160lbs and has a 10.2-inch sitting height, perfect for young children.