Large beach umbrellas are great all season around for creating shade and defending you from the UV rays that are just as harsh during colder weather. But not all umbrellas work with your chair or chair lounger. So, what is the best umbrella for beach chairs? Check out our hand-picked list!
This UV 50+ umbrella comes with windproof nails for increased stability. But even if you simply attach it to your beach chair, this umbrella would still work perfectly. The 360-degree tilt design lets you get maximum sun protection. And thanks to the fiberglass frame, you don't have to worry about catching up too much wind when the umbrella is tilted.
This beach umbrella also comes with a portable bag, so you can easily grab it with your beach chair.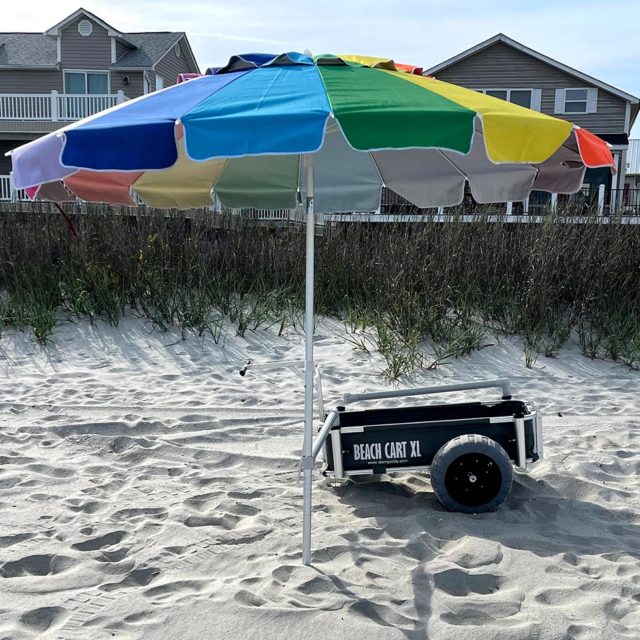 Featuring SPF 50 canopy, fiberglass ribs, and a sand screw for extra sturdiness, our beach umbrella XL is loved by our customers. You'll hear enough people tell you this is the best umbrella for beach chairs - whether connected or used as a standalone.
The lightweight aluminum pole puts stability and portability in one, making it the best option for windy days. Meanwhile, the impressive 8' size gives your entire family the shade they'd ever need.
This umbrella has a unique canopy design and the rugged material is tear-proof. The umbrella provides SPF 50 protection+ and the height is adjustable with the pole mechanism.
This is a great umbrella for beach chairs because the heavy-duty clamp makes it effortless to connect your umbrella to the lounger. All you need to do is clip it to the back handle or on the armrest.
Most people go for the Tommy Bahama brand and it's justifiable. They do have beautifully-designed high-quality products. The Wavy Marlin has a more affordable price compared to other products from the brand, yet the 7' surface is wide enough to provide ample shade above and around the beach chairs.
This umbrella also comes with a sand anchor, making it more stable in soft sand. 
If you're just looking for a smaller umbrella for beach chairs, the Picnic Time 5.5' umbrella is a perfect choice. This umbrella is compact, portable, and comes with a tilt function to keep the shade above you.
The umbrella is 6.5ft high in total. And can be easily used with any chairs, tables, or beach carts with built-in umbrella holders, holes, or extension arms.
This is a solid 7' beach umbrella with a sand anchor and tilting mechanism. The pole goes through a beach chair's umbrella holder hole easily, and since height is adjustable, you don't have to worry about it being too tall or short.
This is a great umbrella for beach chairs, backpack loungers, and your beach carts. The only complaint people have was sometimes the sand screw can be hard to use.
How to Clip a Beach Umbrella to a Beach Chair
Most beach chairs have an umbrella hole on the side where you can easily push the beach umbrella through. For increased stability, you can add a clamp by yourself and clip it to the armrest, or use bungee cords to secure the umbrella. If your beach umbrella has a sand anchor, that would significantly increase the stability.
Another way is to buy shorter umbrellas and add a clamp to the bottom of the pole. This lets you clamp the beach umbrella onto the back of your beach chair. Some umbrellas come with a clamp, or you can buy bulk and attach the clamp yourself.
The same methods work with large beach carts as well. However, you can also use our swing arm extension. It fits onto one of the accessory tubes of our Ultimate Beach Cart XL, but also other types of carts.