You'll find a lot of metal frame beach carts, but often they're made of alloy or steel. Why would you want a beach cart with aluminum frames? A few advantages are
Lightweight compared to steel

rust-proof, whereas steel would rust

still sturdy enough for most of your beach needs

Absorbs shock and impact more effectively
And don't forget to check out our guide on the best custom carts and wagons for 2022!
Best Aluminum Beach Cart with Large Balloon Tires
Don't let the specs scare you! Our Ultimate Beach Cart XL is light enough for any average person, male or female, to haul everything they need for the beach.
Our cart uses marine grade aluminum tubing. This material is sturdy, lightweight, and rust-proof. The inside liner has a hard bottom, so you won't worry about anything poking through. The wagon holds up to 6 beach chairs or anything alike — when most wagons can only hold 4 chairs or less!
This is our most popular product and it features large balloon tires. Even at full capacity, the Ultimate Beach Cart XL still rolls effortlessly in sand. You can also purchase accessories on our website, such as extension arms and surfboard racks.
VIEW NOW
---
Big Beach Cart with Aluminum Frame
As one of the more expensive options in the market, Big Kahuna is a great heavy-duty aluminum wagon for larger loads. The wagon only weighs 75lbs but holds up to 350lbs.
The cart can easily hold multiple coolers, buckets, and other items. The four side walls stand 8.5" tall, safeguarding your items and making sure nothing falls out.
---
Best Aluminum Folding Beach Cart
We love the unique design for this Marine-grade aluminum beach cart. The holding compartment is 5.75 cubic feet and holds up to 330lbs. When fully folded, it occupies no more than 2 square feet. This means you can easily slide this cart behind your garage shelving for storage, or jigsaw it into your packed back trunk.
The wagon uses 20-inch pneumatic tires, making it more suitable for rough terrains. However, these tires may get stuck in soft sand, so you should look into swapping for balloon tires if possible.
---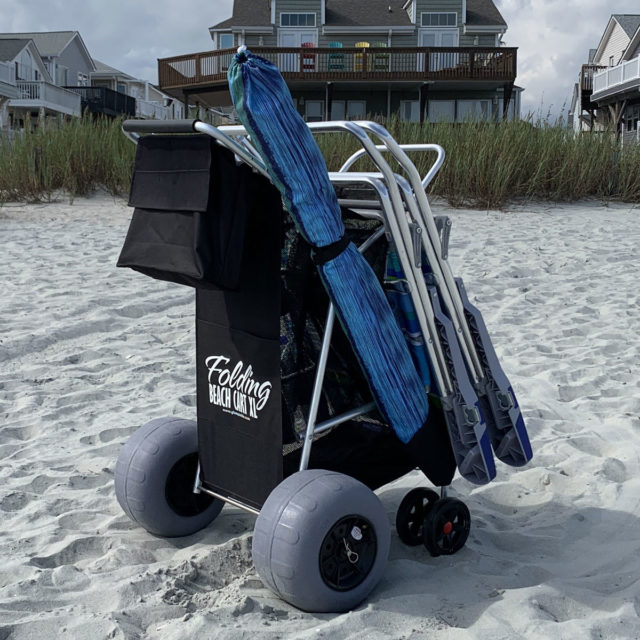 Our folding beach cart is the most transportable beach cart with aluminum frames and large balloon wheels in the industry. The Folding Beach Cart XL holds up to 70lbs and is very easy to assemble. The wagon features rust free aluminum frames and heavy-duty mesh bag. It's the perfect portable cart you need for your beach outings!
Note that we won't be restocking the Folding Beach Cart XL for 2022. If you're interested in getting your hand on one, subscribe to our mailing list to be notified once we restock, or check out other beach carts with balloon tires we offer.
---
Heads up, not all Wonder Wheelers use aluminum. Therefore, make sure to check the product description before you make a purchase. Rio Wonder Wheeler is a great product line thanks to their affordable prices and solid design.
If you want to know more about the differences between each wheeler, check our full Rio Wonder Wheeler product guide.
---
Best Heavy Duty Wagon With Aluminum Frames
If you want to make a serious investment and just be set once and for all, Phoenix Beach Buggy is the best heavy duty aluminum wagon you can go for. The pricing point is justified once you look at the specs.
The entire cart is made of aluminum frame 3/4"schedule 40 pipe, which is extremely strong and durable. It also comes with Wheeleez balloon tires for easy rolling in soft sand. When fully loaded, the cart holds up to 300lbs and the front wheel, handle, and side walls are all removable.
---
This versatile beach cart is the best for fishing enthusiasts as it comes with a foldable, movable bait tray. But it's also great for other outdoor activities. The cart has an aluminum frame and stainless steel hardware.
The 13 in. solid all-terrain tires can go through various surfaces, including hard sand, pebble, grass, and rock. The maximum capacity is 200lbs. So, overall, it's a decently priced middle-tier heavy duty wagon to buy.