Beach season is right around the corner. Are you ready? If so, you know it's time to update your beach camping accessories. From tunes to comfy additions, this list contains our favorite accessories to bring for a day at the beach.
Having a good beach cart is at least 50% responsible for whether you have a good time at the beach. Balloon wheels are currently the favorite because they roll effortlessly on soft sand and never get stuck.
---
It's still chilly outside, so, a firepit sure sounds nice. But it's not the easiest thing to build a fire on the beach — until we came across this awesome stove + firepit. It's time to try some new camping recipes!
---
Who doesn't need some good tunes at the beach? That's why you should look for a quality wireless speaker to take with you! There are plenty of portable options out there, like ones with magnets or clamps so they stay on your beach cart.
But, if you want to bring an actual sound system, we sure won't stop you! Just send us an invitation next time you head out to the beach because we're joining!
---
Solar Charger
It doesn't matter where you go camping, it's always good to have a backup power source. Sure, you can always use your car or RV to charge, but wouldn't you want to make things easier for yourself?
You can find many portable solar chargers online at an affordable price, like this one from Succell Store.
---
Not sure about you, but we're done with ruining a good towel every time we go to the beach or spending a whole hour trying to get sand outta the towel before throwing it into the laundry.
Microfiber beach towels are great investments because they dry fast, are soft around your body, absorb tons of water without getting saggy, but most importantly, never hold sand!
---
Beach Chairs and Beach Loungers
How can you not talk about chairs and loungers when restocking your beach camping accessories? Check out our recommendation on the best beach chairs to buy this year!
---
Essential First Aid Kit
Having a first aid kit around will keep your family safe. Most families use the basic ones, but if you're driving around glamping, we recommend you to buy one of the more comprehensive kits.
The Defget 163-pc kit on Amazon, for example, is a great option. All the products included are medical quality and fit into the durable, weather-proof carrier bag.
---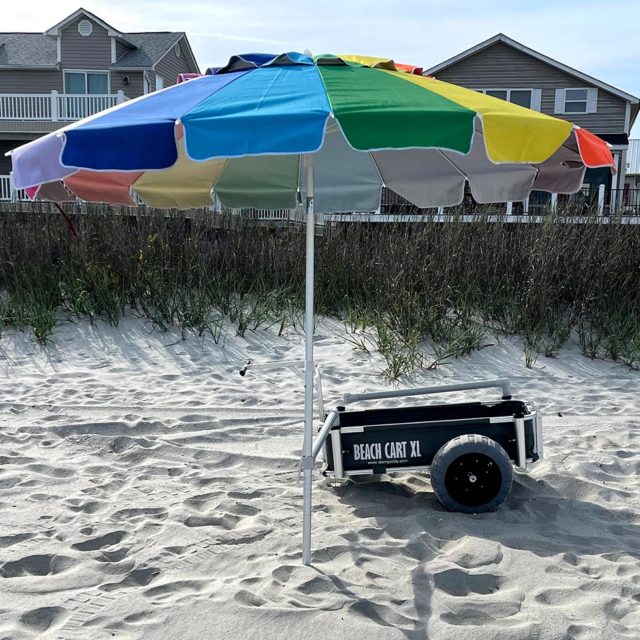 Shades are important when going to the beach even during colder weather because the UV rays don't take a winter break! It's best to get a large beach umbrella that provides enough shade around your seating area. You can also buy a few smaller portable umbrellas to go with your beach chairs.
---
Dry Bag
We know you probably have water-proof cellphone cases for boating and kayaking, but what about an actual dry bag? For example, check out the ROCK CLOUD dry bag on Amazon. These bags are waterproof and quite durable. Now, you can take your favorite snacks, pocketbook, phone, power bank, and wallet safely with you wherever you go!
---
A Portable Cooler
Finally, you totally should get a new cooler before the hotter months get here. Coolers are perfect to if you like to cook outdoors and know how to prep food in advance. And, of course, a nice cold beer always sounds nice.